Crypto Market Wrap: 1-8 April, 2022
All figures quoted in US dollars unless otherwise stated.
Across the board, crypto is down again this week. News that the United States Federal Reserve planning to shrink its balance sheet by nearly $100 billion a month caused a big sell-off of risk assets mid-week.
Crypto has been correlating with traditional risk assets for a little while now, and the sell-off of risky assets in the traditional stock markets is mirrored in the crypto space.
Market sentiment can be tracked with the Crypto Fear and Greed Index, which analyses emotions and sentiments in the market and rates it out of 100. The index is currently sitting at 37 out of 100, within the "Fear" territory.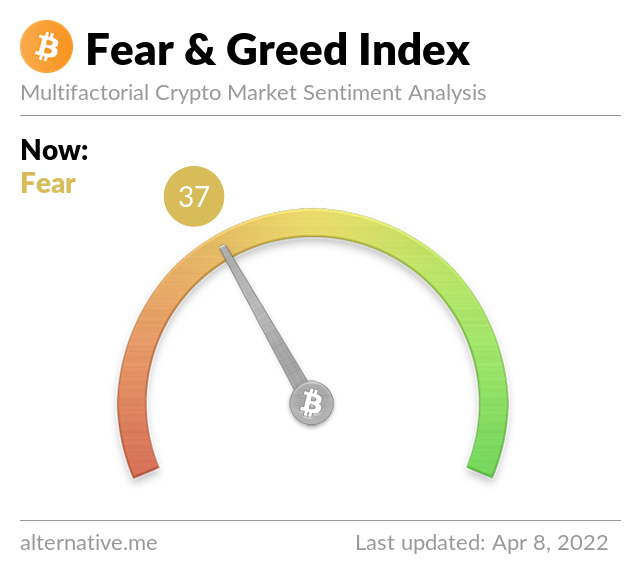 Bitcoin
Bitcoin plunged underneath its newly acquired support level of $46,000 on Tuesday and hasn't recovered, seeing a low of $42,850. For now, at least, it has likely acquired a new trading range between $42,000 and $43,000.
Bitcoin is down 4.1 per cent in the past seven days.
Ethereum
Ethereum had a similar week, peaking at $3,560 before a drop to $3,150 on Thursday, dropping below the new support level found the week prior.
A sharp rise last week means ETH is only down 1.1 per cent on the week.
BNB
A fairly up and down week for BNB, a rally last Friday pushed it above $450 where it held until Wednesday, falling below its newly acquired trading range.
Positive price movement over the last 24 hours has seen a gain of four per cent, causing BNB to make a gain of 2.5 per cent this week.
Solana
An overall positive week for Solana, its NFT ecosystem is picking up steam as a real competitor to Ethereum with many successful projects launched in the past month leading to a rise in price. SOL topped this week at $142 but was still affected by the downturn to hit a low of $111.
A six per cent rally in the past day has meant SOL is down by only 1.2 per cent in the last week.
XRP
A tough week for XRP, last week it was looking likely to reach $1 again but its drop last Thursday continued to see a price decline this week, further falling with the rest of the market mid-week to $0.759.
A gain of 2.3 per cent has been seen over the last 24 hours, despite this, Ripple is down three per cent for the week.
Prefer to listen? Check out our new DeFi Digest podcast, released twice a week, on Spotify and Apple Podcasts.
Disclosure: at the time of writing, the author of this feature owned Bitcoin, Ethereum, Cardano, and other cryptocurrencies.