Crypto Market Wrap: March 18-25, 2022
All figures quoted in US dollars unless otherwise stated.
Coming from a stagnant market last week, the bulls are showing they're ready to take back control with all green across the top of the market and a much more positive outlook according to the Fear and Greed Index.
The crypto market cap has hit over $2 trillion, the first time since mid-February, and over $500 billion has been added in the recent rally.
Traders seem to be shaking off the uncertainty of the Fed rate hikes, inflation, and war, traditional markets and stocks are also on the up over the past week.
Market sentiment can be tracked with the Crypto Fear and Greed Index, which analyses emotions and sentiments in the market and rates it out of 100. The index is currently sitting at 47 out of 100, within the "Neutral" territory. The last time the Fear and Green Index scored over 45 was earlier this month, on the 2nd March 2022.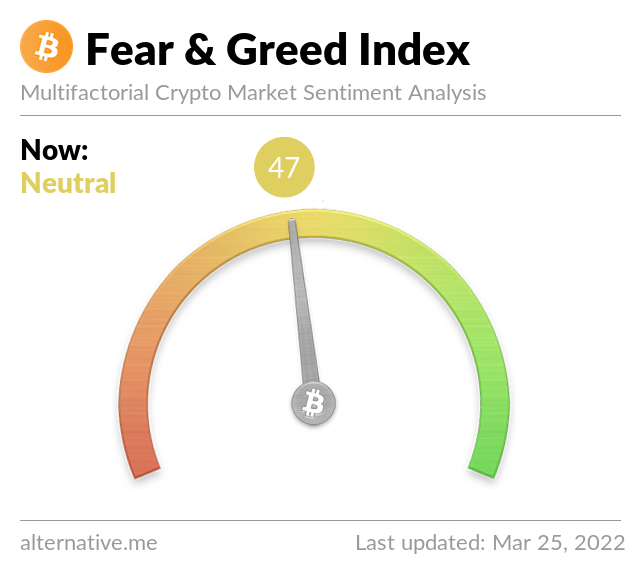 Bitcoin
Bitcoin hovered around the $39,000 point last week, showing some jumps in price this week, with two significant rallies, firstly on Tuesday afternoon going from $41,000 to $43,000, then overnight on Thursday, from $43,000 to $44,000 in the space of 3 hours.
BTC is up 6.6 per cent this week, and reach a 7-day-high of $43,951 at 9am AEDT this morning.
Ethereum
Ethereum gained rapidly from the high $2,700 range to nearly $3,000 on Saturday, it didn't manage to break that resistance with a clear margin until early Thursday, but has continued to climb to just over the $3,100 range this morning. A significant rally also appeared on Tuesday which broke the $3,000 mark.
ETH is up 12.1 per cent in seven days, hitting a high of $3,110.
BNB
BNB rallied, following a fairly choppy trading period the week prior, with rallies on Saturday, and then Monday following into Tuesday. BNB gained from around $390, breaking its $400 resistance level on Sunday then again Tuesday. It's since held above that level, seeing a high of a few cents over $415.
BNB is up 5.3 per cent in the past seven days.
XRP
XRP has had a bit of a different run again this week, although still followed the wider market with a short gain period on Tuesday. It did break just over the $0.85 mark to strike $0.856 in Tuesday's rally, but has hovered in the $0.84 range.
XRP is up 5.8 per cent on the week.
Cardano
Cardano has flipped LUNA in market cap again this week, seeing a significant increase in price and trading volume, ADA is up 33.5 per cent in price over seven days, breaking over $1 for the first time since late February.
ADA had a steady rally, topping out at $1.17 early this morning, it has dipped since then, if the bulls can regain and push to $1.20 it'll be the first time it's reached that level since at least the 11th of February.
Prefer to listen? Check out our new DeFi Digest podcast, released twice a week, on Spotify and Apple Podcasts.
Disclosure: at the time of writing, the author of this feature owned Bitcoin, Ethereum, Cardano, and other cryptocurrencies.