Crypto Market Wrap: March 25 – April 1, 2022
All figures quoted in US dollars unless otherwise stated.
Is the crypto bull run losing steam? A short drop this morning across the price of the top cryptos has some worried the bull market is losing momentum.
The past fortnight has seen the crypto market on an upward trajectory, mirroring the traditional market. Investors are much more optimistic, but in the last 24 hours, the global crypto market cap has seen a 2.3 per cent downturn.
It's still an uncertain time in the financial market, typical fears of rate hikes and inflation are still around, but some traders are comfortable to take that all in stride.
Market sentiment can be tracked with the Crypto Fear and Greed Index, which analyses emotions and sentiments in the market and rates it out of 100. The index is currently sitting at 50 out of 100, within the "Neutral" territory.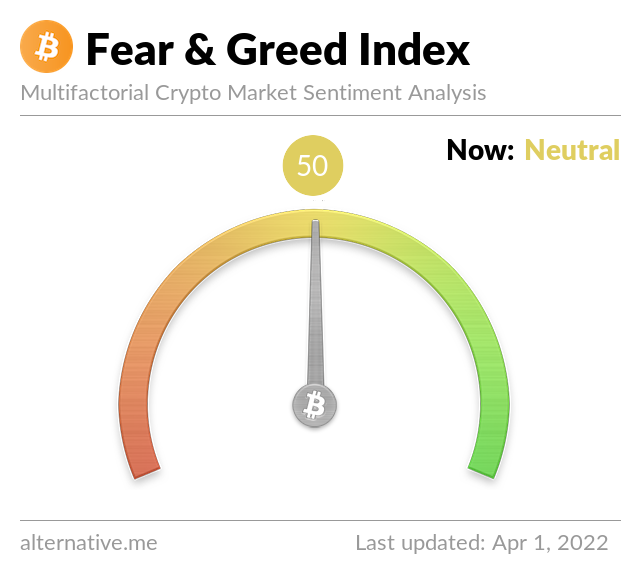 Bitcoin
BTC
Bitcoin started the week around $44,000 before a rally Monday broke it over the $45,000 resistance level. From there it stayed tightly in the $47,000 to $48,000 range before seeing a drop today of 3.7 per cent below $46,000.
Despite this, BTC is still up 6.4 per cent on the week.
Ethereum
Ethereum broke over its $3,200 resistance on Monday also, reaching a top of $3,464 overnight on Wednesday. It held at the $3,400 level until early this morning, dropping below $3,300 since.
ETH is up 8.1 per cent over the last seven days.
BNB
BNB saw its peak at $450 on Wednesday this week, rising over its key resistance level of $420 on Monday along with the others on this list. Early today it did drop nearly per cent per cent back below the $430 level where it seems to be holding for now.
BNB is up just over five per cent this week.
Solana
Solana rejoins the list this week, having moved up a few places ahead of Cardano and XRP, a big bull run on SOL, the coin has seen a rise of 20 per cent moving from the $100 mark to now over $120.
Trading volume surged also, early on it hovered around the $1 trillion mark, even dipping below $900 million, now volume has increased threefold peaking overnight at $3.6 trillion.
XRP
A very up and down week for XRP, it looked like it was heading to $1 early this week but a price reversal on Tuesday meant it only topped out at $0.90. It's had a significant drop this morning of over 4.5 per cent to just above $0.80.
XRP is down 3 per cent in the last seven days.
Prefer to listen? Check out our new DeFi Digest podcast, released twice a week, on Spotify and Apple Podcasts.
Disclosure: at the time of writing, the author of this feature owned Bitcoin, Ethereum, Cardano, and other cryptocurrencies.