Crypto Market Wrap: What happened February 25- March 4, 2022
All figures quoted in US dollars unless otherwise stated.
Crypto has rallied this week, with sentiment improving as global economic repercussions of the Russo-Ukrainian war is starting to settle down.
Last week, finance Twitter recommended "buying the invasion", sharing charts depicting how the price of stocks dipped upon news of an invasion, before immediately gaining rapidly. This type of price movement has been mirrored across the crypto markets, as shown with Bitcoin's price below.
Financially, the invasion has meant increased inflation and insecurity of the financial system, which has seen many Ukrainians and Russians turn to crypto as a safe harbour for storing value as their currency value tumbles.
Market sentiment can be tracked with the Crypto Fear and Greed Index, which analyses emotions and sentiments in the market and rates it out of 100. The index is currently sitting at 33 out of 100, within the "Fear" territory.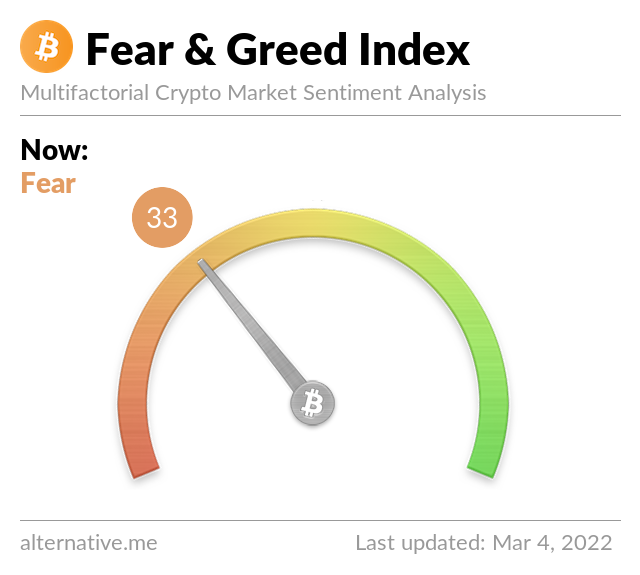 Bitcoin
Bitcoin had a 15 per cent jump between Monday and Tuesday morning, going from trading around $38,000 to around $44,000, hitting a high for the week at $44,790. It has trended downwards since the high, losing 5.2 per cent in the last 24 hours, but is still up 8.2 per cent on the week.
Ethereum
Ethereum typically trades in a similar pattern to Bitcoin, and this week was no different, with a 13 per cent increase in the 24 hours between Monday and Tuesday midday. ETH has struggled to break past the $3,000 mark, topping the week at $3,020, and it's since dropped back below $2,800 with losses of seven per cent in the past 24 hours.
BNB
BNB had a 13.6 per cent jump between Monday and Tuesday, reaching a seven-day high of $416, nearly breaking across the $420 line.
Like others on this list, BNB has fallen in the last 24 hours by 3.6 per cent, but is still up 8.8 per cent on the week.
XRP
XRP had a bit of a more choppy week, with swings between $0.725 and $0.775. XRP started the week below $0.70 and rallied over 11.5 per cent on Saturday to $0.782, then dropping to trade around $0.725 on Monday, before rallying over 9 per cent to a high of $0.794 for the week.
Terra
Terra has flipped Solana in market cap this week, gaining 41.5 per cent in seven days and rocketing in value to a market cap of $34.2 trillion. The overnight rally into Tuesday morning saw a jump of 26.3 per cent in 24 hours, and Terra is nearly back at its all-time high of $103, peaking this week at $95.
Prefer to listen? Check out our new DeFi Digest podcast, released twice a week, on Spotify and Apple Podcasts.
Disclosure: at the time of writing, the author of this feature owned some of the cryptocurrencies on this list.