Crypto Market Wrap: What happened March 4-11, 2022
All figures quoted in US dollars unless otherwise stated.
The crypto market is still in choppy waters, the top cryptos are bouncing within a tight channel of support and resistance, and aren't really moving anywhere.
On Thursday, there seemed to be the potential for a bull run, the previous week had seen a large jump in the price of cryptos as sentiment improved, but an impending Executive Order from U.S. President Joe Biden sent prices crashing for fear of regulation.
On Thursday, as the EO fact sheet was revealed, prices jumped again, with many commenters happy to see that the EO was more bullish than expected, the language of the order even expressed that America "must maintain technological leadership in this rapidly growing space".
Now, with the excitement cooling off, so have crypto prices, it seems the EO wasn't enough to stave off concern of a major conflict, high inflation, and soaring commodity prices.
Market sentiment can be tracked with the Crypto Fear and Greed Index, which analyses emotions and sentiments in the market and rates it out of 100. The index is currently sitting at 22 out of 100, within the "Extreme Fear" territory.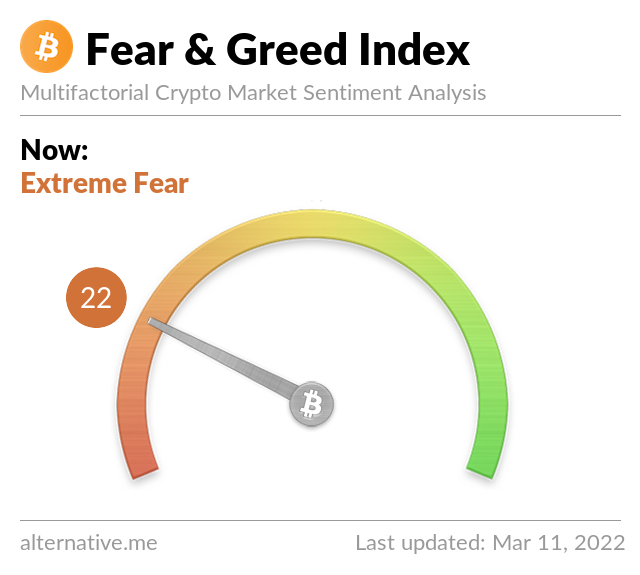 Bitcoin
Bitcoin had a really up and down week, swinging from $42,000 on Saturday, to a low of $37,387 on Tuesday, back to over $42,000 with the EO announcement then sinking to around $38,500 today. BTC is down overall 9.2 per cent on the week.
Ethereum
Ethereum fell from $2,750 to a low of $2,467 mid-week, rallying back to $2,750 on Thursday, and now trades at $2,500 again. Overall, ETH is 10 per cent down on the week.
BNB
BNB started off around the $400 mark, and traded mostly sideways early in the week around $380, with a blip down to a low of $365 Tuesday, on Thursday it rallied up to just below $400 again, and is now back down to around $370. Thanks to this, BNB is 8.7 per cent down on the week.
XRP
XRP and Terra are pretty neck-and-neck in terms of market cap, but XRP has seen a bit of a difference in price action this week. XRP started off around $0.74 late Friday, sinking to $0.71, then taking off and lifting seven per cent in 14 hours on Saturday to $0.76. Between Monday to Wednesday, it bounced between $0.71 and $0.75 again, before peaking on Thursday at $0.77.
XRP is now trading at $0.73, down two per cent on the week.
Terra
On Thursday, LUNA hit a new all-time high of $103.88, in the days prior it rallied over 35 per cent from the week's low of $76, it's believed demand for its counterpart stablecoin, UST pushed the price to the new level due to the Terra networks tokenomics. LUNA is up over five per cent in the last 7 days.
Prefer to listen? Check out our new DeFi Digest podcast, released twice a week, on Spotify and Apple Podcasts.
Disclosure: at the time of writing, the author of this feature owned some of the cryptocurrencies on this list.