Market Wrap: What happened with the top five cryptocurrencies this week? (14-Jan-2022 to 21-Jan-2022)
The crypto market is still highly bearish. With many central banks adopting a hawkish attitude towards crypto, pressure in the form of rising interest rates and tightening fiscal policy, traders are feeling the need to get out of more speculative investments like crypto.
This is clearly shown with the stark movements this week of the top cryptocurrencies by market cap.
Last week we reported how stablecoins, cryptos that mirror the price of fiat currencies, have grown in adoption and market cap. Early this morning, USD stablecoin, Tether, overtook Binance Coin in market cap, claiming the number-three spot. Meanwhile, USD Coin, also a USD-pegged stablecoin, moved up to the number-five position, overtaking Solana in the position.
What does this mean? It could signal traders are swapping their more volatile cryptocurrencies for a price-stable asset to save their profits from the ongoing price fluctuations, whilst keeping their funds within exchanges or wallets to quickly swap back into other assets.
The market sentiment can be tracked with the Crypto Fear and Greed Index, which analyses emotions and sentiments in the market and rates it out of 100. The index is currently sitting at 19 out of 100, well within the "Extreme Fear" territory, where it has been since January 4.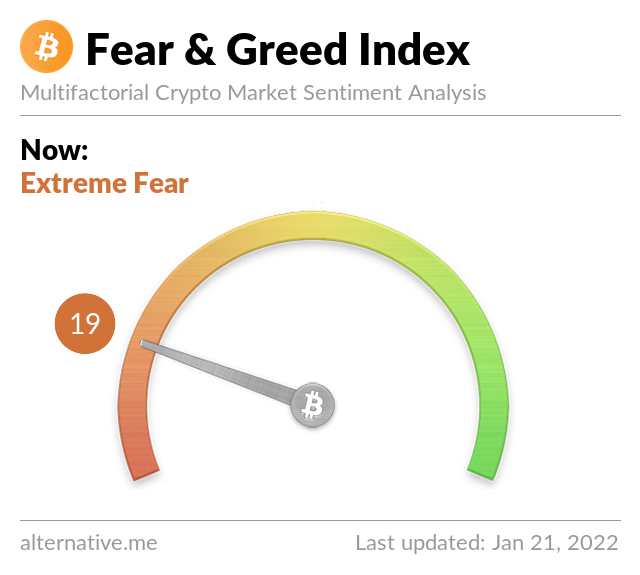 Bitcoin
Bitcoin was valued at around US$43,000 early in the week. On Wednesday it broke below US$42,000, and has since continued its fall to the week's low of US$$40,707 at around 11 am Sydney time today. At the time of writing, $BTC is down 3.9 per cent over the last seven days.
Ethereum
Ethereum topped at a little over US$3,300 Monday and has fallen steadily over the week. Similarly to Bitcoin, the price took a 7.7 per cent dive early this morning to a low of US$3,006 and is down seven per cent for the week.
Binance Coin
Binance Coin early in the week reached highs of just over US$500, it since has had a steadily fall, with the most significant drop of almost 11 per cent coming this morning to a low of US$421. $BNB is down 9.8 per cent on the week.
Cardano
Those of you with a keen eye might notice that Cardano is above Solana this week, and that's because on Monday afternoon, Cardano flipped Solana in market cap and has continued to remain only slightly ahead through the week.
Earlier this morning, Cardano was the only crypto on this list in the green this week, up 1.6 per cent and reaching a high of US$1.61 Tuesday, a 29.8 per cent increase from the start of the week. However, the price drops across the market this morning has forced $ADA down back to US$1.20 and now sits at 0.4 per cent down on the week at the time of writing.
Solana
Solana has had the most significant reduction in both price and market cap this week, with 13.5 per cent down on the week, and almost US$6 billion wiped off its market cap. The coin has subsequently fallen two spots in market cap rank according to data from CoinGecko.
$SOL hit its week low of US$120 at 1pm Sydney time, a fairly drastic fall from the high of US$151 on Monday.