Market Wrap: What happened with the top five cryptocurrencies this week? (21-Jan-2022 to 28-Jan-2022)
Over the past week, the crypto market experienced some of the most dramatic price drops yet seen within crypto.
This was to be expected this week, as market turmoil has also been prevalent in the traditional markets, with fear over monetary policy, inflation, and interest rate rises. Interestingly, cryptocurrency prices are now more closely correlating with stock prices of technology companies, signalling that traders could be invested in both assets.
The market sentiment can be tracked with the Crypto Fear and Greed Index, which analyses emotions and sentiments in the market and rates it out of 100. The index is currently sitting at 24 out of 100, well within the "Extreme Fear" territory, where it has been since January 4.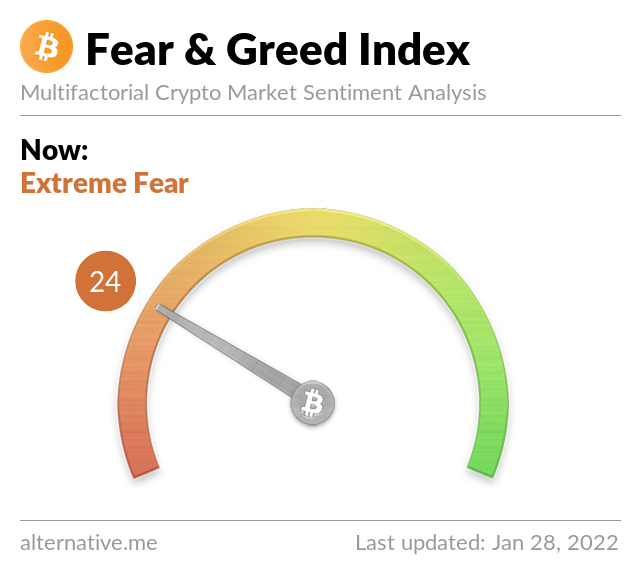 Bitcoin
Bitcoin started the week on a high above US$39,000 and continued its downtrend which prevailed last week. It hit a bottom of US$33,505 at midnight on Tuesday.
Choppy trading later in the week had Bitcoin's price between the US$36,000 and US$38,000 range. Bitcoin is down 8.3 per cent on the week.
Ethereum
Ethereum followed much the same pattern as Bitcoin, starting at a high above US$2,800 before bottoming out at US$2,204 just after midnight on Tuesday.
It has since traded sideways around the US$2,400 mark and is down a significant 19 per cent over the week.
Binance Coin
Binance Coin had a choppy trading week, with swings every 24 hours between a support level of about US$340, and resistance around the US$380 mark.
It fell sharply from its high of US$432 at the start of the week, and due to this is 11.7 per cent down over the past seven days.
Cardano
Cardano similarly had a choppy week. From its high of US$1.25, it briefly fell under a dollar to 96 cents on midnight Tuesday, the first time it's done so since February 2021.
Since, $ADA has traded sideways at US$1.05, and is down 16.7 per cent on the week.
Solana
Solana has had the most significant losses this week, dropping 28 per cent over seven days. It was briefly overtaken by Ripple in market cap due to the loss in value.
It hit a bottom of US$82 on Tuesday, and has struggled to break resistance at US$100 since then.