Market Wrap: What happened with the top five cryptocurrencies this week? (February 11-18, 2022)
All figures quoted in US dollars unless otherwise stated.
It has been a big week for crypto as major uncertainty has hit traders and investors in the last 24 hours as the White House appears ready to push for more regulation of crypto assets.
Current widespread reports of an executive order expected to be issued by Joe Biden next week will allegedly seek to set up a robust framework for regulation of cryptocurrencies and study the implementation of a central bank digital currency.
The news was enough to overshadow any positive sentiment gained this week, which came in the form of well received Super Bowl ads, the ASX warming to crypto listings, and a record-breaking crypto sponsorship deal.
Market sentiment can be tracked with the Crypto Fear and Greed Index, which analyses emotions and sentiments in the market and rates it out of 100. The index is currently sitting at 30 out of 100, within the "Fear" territory, dropping 22 points from yesterday's "Neutral" score of 52.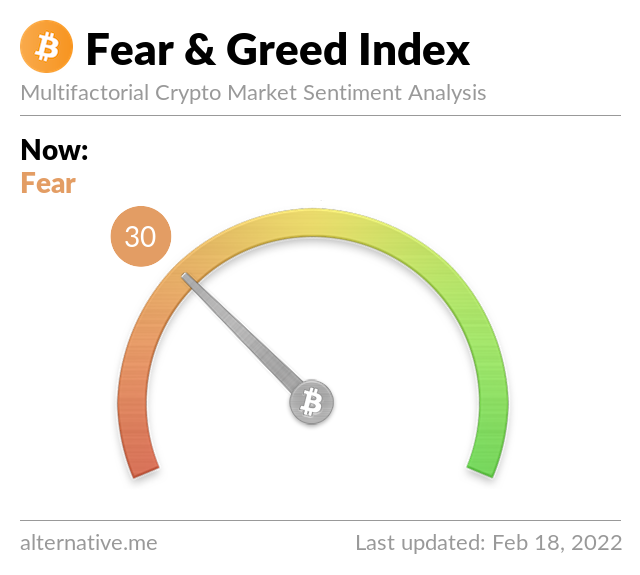 Bitcoin
Bitcoin has slumped this morning, dropping by 7.6 per cent in the last 24 hours to trade around $40,500, and is overall down 7.0 per cent on the week.
BTC's high this week was $44,574 on Wednesday morning, which it has since slid to its current value.
Ethereum
Ethereum has lost over eight per cent of its value in the last 24 hours, and is down 6.4 per cent on the week, currently trading below the $2,900 mark from a high of $3,179 on Wednesday morning.
Binance Coin
Binance Coin has fallen over 6.3 per cent in the last 24 hours, and is on track to head back to its low of the week of $392, BNB is down 3.4 per cent on the week.
XRP
A newcomer to the top five, Ripple (XRP), has seen a drop of over 7.5 per cent in the last 24 hours, heading down to its low of the week of $0.75. It's currently trading around the $0.78 mark, and over the past seven days is down 6.4 per cent.
Cardano
Cardano has had the most significant drop this week, with a loss of 11.4 per cent over the past seven days, and six per cent in the last 24 hours, it is edging back near the $1 mark from its high of $1.16.
Sign up for our Weekly Digest to keep updated with crypto prices and market movements, delivered straight to your inbox.
Disclosure: at the time of writing, the author of this feature owned some of the cryptocurrencies on this list.