Market Wrap: What happened with the top five cryptocurrencies this week? (February 18-25, 2022)
All figures quoted in US dollars unless otherwise stated.
Russia's invasion of Ukraine has dominated the news over the past 24 hours, and it sent financial markets tumbling.
The prospect of a large scale conflict with Russia has many concerned about the short and long term future of geopolitical stability. Not only has war typically decimated economies, increasing inflation, taxes, and public debt, it also displaces and kills millions.
That may seem obvious, but it's important to be grounded when reading about financial market movements during a conflict.
Finance Twitter has been sharing the below image showing how markets have historically bottomed out during periods of invasion, only to rise significantly afterwards, leading many to give the advice to "buy the invasion".
This pattern seems to be reflected in the crypto markets as well, with Thursday's announcement that Russia officially invaded Ukraine, the price of the top five cryptos sank.
Market sentiment can be tracked with the Crypto Fear and Greed Index, which analyses emotions and sentiments in the market and rates it out of 100. The index is currently sitting at 27 out of 100, within the "Fear" territory.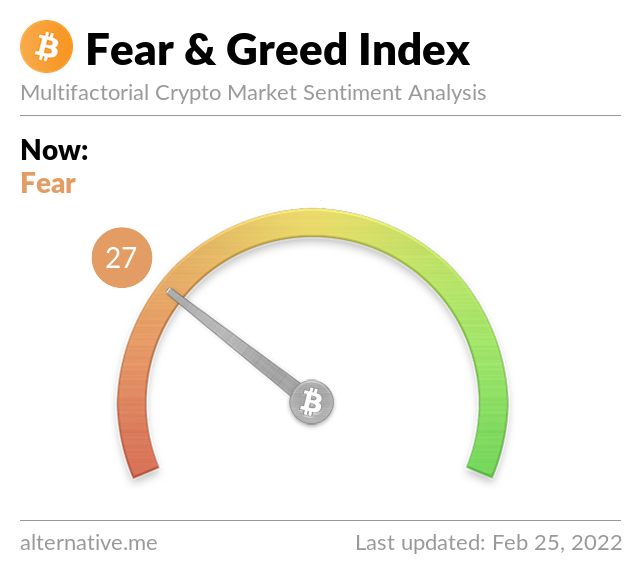 Bitcoin
Bitcoin was on a steady downtrend all week, with a steep fall of over 10 per cent on Thursday to a low of $34,740 with the news of the invasion.
BTC has been recovering so far today, but is still down -4.8 per cent on the week.
Ethereum
Ethereum started the week above $2,900, its gradual slide down was accelerated Thursday, which saw a 14.6 per cent drop in 24 hours.
ETH's price action has followed BTC with signs of recovering today, and is down 8.2 per cent for the week.
BNB
BNB has seen signs of recovery today after a 13.9 per cent drop yesterday to a low of $331, BNB is down 9.1 on the week, having slid from its high of $410.
XRP
Ripple fell 16 per cent with the news Thursday to a low of $0.63, it does seem to be recovering, up 1 per cent in the last 24 hours, but is still down 8.6 per cent in 7 days.
Solana
Solana has pushed out Cardano in market cap this week, having had a 6.5 per cent price rise in the last 24 hours. It's not quite enough to get it back to the week's high of $96, having crashed 13.9 per cent on Thursday to $77.
Prefer to listen? Check out our new DeFi Digest podcast, released twice a week, on Spotify and Apple Podcasts.
Disclosure: at the time of writing, the author of this feature owned some of the cryptocurrencies on this list.