Market Wrap: What happened with the top five cryptocurrencies this week? (February 4-11, 2022)
Last week we asked if we could finally be coming out of the bear market, and it seems the hints of bullish sentiment have truly come to fruition this week, with most of the top five cryptocurrencies making double-digit gains.
A newcomer to the list even closed over 30 per cent gains over the week, placing it in the ten biggest gainers over the past seven days, and moving it into the top five cryptos by market cap (stablecoins excluded).
Traders seem to have shaken off the fear of rate hikes and inflation and are ready to bet on higher risk asset classes like cryptocurrencies.
Market sentiment can be tracked with the Crypto Fear and Greed Index, which analyses emotions and sentiments in the market and rates it out of 100. The index is currently sitting at 50 out of 100, within the "Neutral" territory, jumping 30 points over the past seven days, well escaping the "Extreme Fear" sentiment prevalent over the past weeks.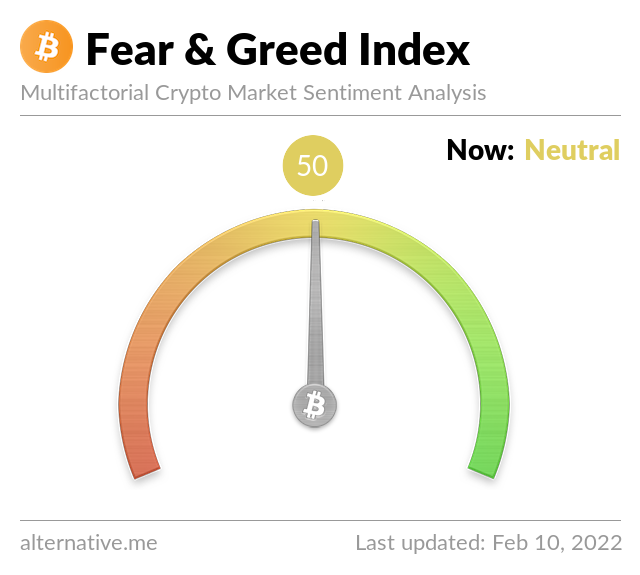 Bitcoin
Bitcoin has been on a big run this week, gaining 17.9 per cent over seven days and reaching a high of nearly US$45,500, the largest price jump came on Saturday, gaining 9.1 per cent in 24 hours.
Bitcoin is still trending upwards, and is seeing support levels around the US$43,500 mark over the past three days.
Ethereum
Ethereum has made double-digit gains of 15.1 per cent over the past seven days, moving from a low of US$2,670 to top the week at US$3,261. Ethereum is seeing a further trend upwards, with the support levels around US$3,000.
Binance Coin
Binance Coin saw a large single-day gain of 11.6 per cent on Saturday, starting the week at US$370, it's now seeing support at US$415 and a high of US$440, and has seen growth of 10.3 per cent over the week.
XRP
A newcomer to this list, XRP (also referred to as Ripple) briefly overtook Solana in market cap around the end of January. This week it had a surge in price, gaining 33.7 per cent over the week, and saw $13.5 trillion added to its market cap, growing from US$29 trillion to a top of over US$42.5 trillion.
Traders are speculating that an ongoing lawsuit from the U.S. Securities and Exchange Commission will favour Ripple, the developer of the XRP token. Documents in the case were unsealed last week, and it's expected a verdict will be reached soon.
With the case soon wrapping up, that's enough for traders to send XRP's value rocketing from a low of US$0.607 to a top of US$0.907.
Cardano
Cardano's price has broken out over the US$1.10 mark for the first time in two weeks, a key resistance level noted over this period. ADA reached a high of US$1.25, pushing through the US$1.20 mark for the first time since the January 22.
Whilst less than some others on this list, Cardano has seen a price gain of 7.8 per cent in the last seven days.
Disclosure: at the time of writing, the author of this feature owned some of the cryptocurrencies on this list.